In the studio with Pearl
If you grew up watching the Jetsons on TV, you might remember that the year was 2020. How I would love a flying car and to be able to change my home location due to the weather. Alas, life has not yet advanced to the Jetson's level! With the advent of Covid-19, we have all spent more time in our homes than we have in a very long time.
The portrait studio in Andover has closed and I thank all of you who have been a part of the studio for allowing me to do something that I loved and to be of service to you. It was an honor and I will reflect on that time fondly.
A new decade has begun and I have returned to my first love - painting. My parents would tell you that I started at the age of two painting the walls of our home, which may just be true, for I have never lost my love for it. No matter what I may be involved in I have always had a painting on my easel. I have painted in watercolor, acrylics and my favorite - oils. I just can't get enough of it.
Traveling around the world has shown me such beauty and how we so often miss seeing the roses along our way. I want to create paintings that communicates the beauty that I see. I hope you will join me in this journey.
My painting below, "Snowed Under", receive 3rd place at the NewTV show "Winter". The judge wrote this about my piece:
"Pearl White's oil painting immerses us in a snow-covered environment. The heavy-coated tree branches have surrendered to nature and are resigned to endure the wintry season until the first thaw. Skillfully depicted, these overhanging limbs together with the deeply blanketed setting allow the viewer to feel the weight of this immense snowfall. The spectrum of light is reflected through the range of hues and the overwhelming nature of the snow is wonderfully captured by having the painting full the entire canvas. Snowed under indeed!"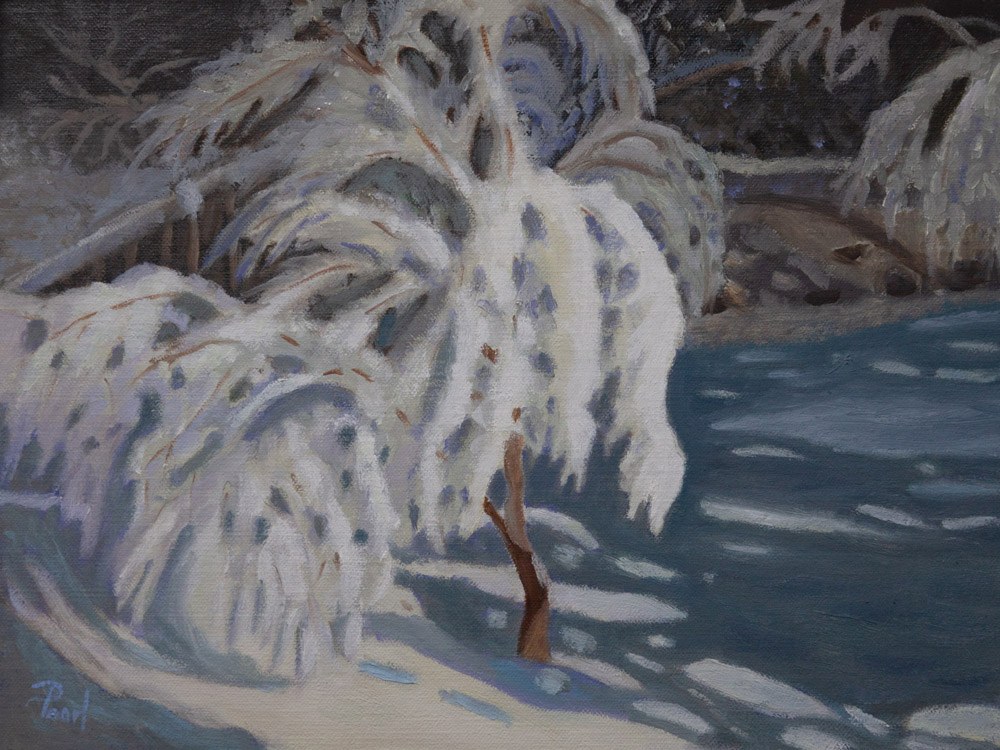 2010 was the last time we had a December snow storm. Yesterday's was a doozy for some. I saw a video 40" of snow falling in New York state!
Being outside shoveling was great fun today because I was outside doing something I don't ordinarily do. Then again, there is nothing ordinary about this year.
Stay safe!
~ Pearl